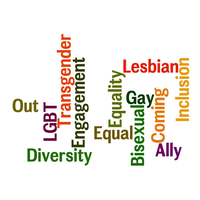 GALAXe Members, Straight Allies, and Friends,
As we reflect on our 2016 year, GALAXe continues to push the envelope for LGBT diversity and inclusion. Some of our highlights for this year include
Our first global LGBT event in Canada, which took place in Toronto during Pride week. This was a fantastic opportunity for us to bring together HR leaders, diversity champions, and our Canadian members and allies, to discuss LGBT diversity at Xerox.

GALAXe was also instrumental in hosting our first ever cross-caucus Business and Diversity Webcast, live from the Gil Hatch Center in Webster, NY. Here our leaders Herve Tessler, Bill Castle and Darrell Ford discussed Xerox' legacy and commitment to diversity and answered questions regarding our New Path Forward with regards to diversity and inclusion. Additionally, Dr. Sophie Vandebroek was honored with an inaugural Lifetime Diversity Achievement award, nominated by all Xerox caucus groups.

Globally, GALAXe expanded our outreach to leaders and HR partners in the Philippines and India. Our Xerox Research Centers and HR leadership in India. We are honored that Xerox has partnered with global partners, and hosted a cross-company business forum.

GALAXe and Xerox, had a large presence at 2016's Out and Equal Workplace Summit, where over 4,000 members of the LGBT community, straight allies, leading businesses from all over the world, came together to learn, share, promote, and lead, LGBT diversity and inclusion in the workplace.

Xerox received a 100% score on the Human Rights Campaign's Corporate Equality Index, for the 15th consecutive year, further illustrating Xerox's commitment to LGBT equality.
Together, we have accomplished a considerable amount in 2016 and we thank you all for your efforts. We have set the bar high, as we move into 2017.
Sadly, 2016 also brought tragedy to the LGBT community, when 49 people lost their lives at Pulse Nightclub in Orlando, FL. This devastating event reinforced the need for us to continue to push even harder for LGBT inclusion and protections. Despite the horrific events that took place on June 12, the world came together in unity and solidarity for the LGBT community, and we continue the fight for equality using the stance, "love always wins".
As 2017 approaches, and we plan our strategies and goals, we still have a lot to achieve. Below you will find GALAXe's 2017-2019 priorities; these are our Board Leader's commitments to all of you.
2017-2019 Priority Areas
We have a strong Board who will help drive these initiatives, but we encourage any of you who are interested in becoming more involved with GALAXe, to reach out to us. Below you will find our 2017 GALAXe Board slate.
In addition, we have two individuals who have agreed to lead the LGBT team at Conduent and work with our Diversity Office to ensure the needs of our LGBT employees are represented. Raga Gopalakrishnan will represent our members in Conduent and Lori Skjeveland will represent our Allies and continue the great Ally work we have done at Xerox. Together they will represent the new beginning at Conduent. Please find their bios attached.
With the transformation of Xerox and the advent of Conduent, the political climate in North America and beyond, our commitment to LGBT diversity and inclusion is stronger than ever. To serve you better in 2017 and beyond we will be launching a total refresh of our website and communications platform in the early part of Q1. This platform will enable us to remain even more connected with all of our members and allies. So we have much work today. If you would like to be more involved either as a member or an Ally please reach out to us and we would be thrilled to get you more involved.
We hope everyone has a wonderful holiday. We look forward to working with all of you in 2017.
Sincerely,
Joann Halle and Eric Leonard
Incoming Co-Presidents
GALAXe - Pride at Work
Incoming GALAXe Co-President Eric Leonard
Eric Leonard is the Voice of Customer Business Analyst, for the Worldwide Quality and Customer Experience organization. Eric is responsible for coordinating the data management and deployment process for various Xerox relationship, and transactional based surveys. Additionally, Eric supports several reporting projects required to drive customer experience across the Xerox Technology Business. Eric brings with him customer service experience from the Remote Solutions Service business, as well as U.S. and Canadian service provider knowledge, and a solid Customer Relations background.
Eric is certified in Net Promoter Associate Customer Loyalty, and also has his Green Belt Certification. Eric and his partner Jamie live in Halifax, Nova Scotia, Canada, and enjoy traveling.
Incoming GALAXe Co-President Joann Halle
Joann Halle was recently named as the Director of Learning and Development for the new Xerox Corporation. She will be part of the newly formed Talent and Organizational Capability team in Human Resources. She has spent over 25 years in key HR & Learning, Sales, and Operations leadership positions at Xerox Corporation and VeriSign leading field and support organizations through change and transformation. She led the Sales Coaching and Challenger sales transformation for several lines of business in company. At VeriSign, she successfully led a sales division through several strategic acquisitions. With a passion for continuous learning and innovation, she has owned and participated in several entrepreneurial ventures.
She holds a BS in Education from the University of Connecticut and an MBA, Cum Laude from Babson College in Wellesley, Massachusetts. She is a Certified Performance and Learning Professional and holds a Lean Six Sigma Green Belt. Joann resides in the DC area with her spouse Stephanie and enjoys travel and photography.
Incoming Conduent LGBT Co-Leader Raga Gopalakrishnan
Raga Gopalakrishnan is a Research Scientist in the Algorithms and Optimizations group, which is part of the Data Analytics Lab at Xerox Research Centre India (XRCI), Bangalore. His research interests lie in the domain of applied algorithmic game theory and performance modelling. At XIG, Raga works primarily with the Public Sector business group on Urban Mobility projects with a focus on building a sustainable future, e.g., ridesharing and electric vehicle infrastructure optimization and management. Raga believes that collaboration is a key component of good research, and is interested in working with researchers both in industrial research as well as from academic institutions. Prior to joining XRCI in April 2015, Raga was a postdoctoral research associate at the University of Colorado Boulder in the Department of Electrical, Computer, and Energy Engineering. He graduated with a Masters and PhD in Computer Science from Caltech in 2013.
When Raga came out to his parents in June 2013, he turned to PFLAG for resources to help him best handle the subsequent turn his relationship with his parents took. The genuine love, support, and guidance he received during a difficult time prompted him to join the Board of PFLAG Boulder County, and he continues to serve as a member of their Online Communications Team after returning to India.
---